Shirts
Camicia su misura tessuto Popeline micro riga blu scuro
€ 69,0
Questo tessuto è un'ode all'eleganza discreta, caratterizzato da una texture sottile e sofisticata.
Il Popeline è un tessuto di alta qualità, noto per la sua trama fitta e resistente, che garantisce una vestibilità impeccabile e un comfort duraturo. La sua leggerezza lo rende ideale per ogni stagione, regalando un piacevole contatto con la pelle.
La micro riga blu scuro aggiunge un tocco di distinzione a questa camicia, offrendo una nota di dinamismo al tradizionale design a righe. Questa sfumatura di blu scuro è elegante e versatile, conferendo alla camicia una nota di sobria eleganza adatta ad ogni occasione.
Colletto: Alain
Abbottonatura: Classica
Manica: Lunga
Polsino: Classico 2 bottoni
Taschino: No
Cugni: Si
Taglio: normal fit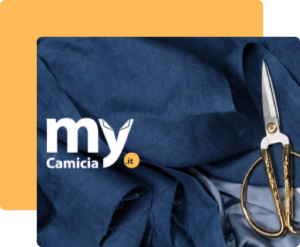 What is MyCamicia?
MyCamicia is the revolutionary new way to buy bespoke shirts online. Choose from dozens of fabrics, customize your shirt, take the measurements with the help of our algorithm and we will make the garment in our artisan tailor's shop directly for you!