Shirts
Camicia su misura tessuto Popeline azzurro impero
€ 69,0
Questo tessuto pregiato è una vera dichiarazione di stile, ispirata alla maestosità e alla raffinatezza dell'Impero.
Il Popeline è rinomato per la sua trama fitta e resistente, offrendo una vestibilità impeccabile e un comfort senza pari. La sua leggerezza permette di indossare questa camicia in ogni stagione, regalando una sensazione di freschezza anche nelle giornate più calde.
Colletto: Gordon
Abbottonatura: Alla francese
Manica: Lunga
Polsino: Smussato
Taschino: No
Cugni: Si
Taglio: normal fit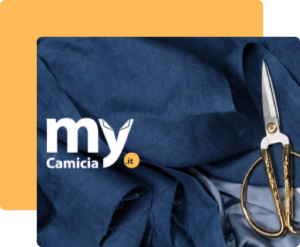 What is MyCamicia?
MyCamicia is the revolutionary new way to buy bespoke shirts online. Choose from dozens of fabrics, customize your shirt, take the measurements with the help of our algorithm and we will make the garment in our artisan tailor's shop directly for you!